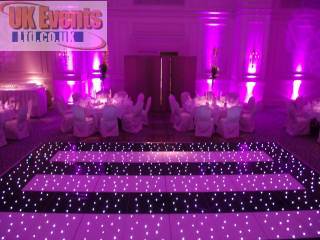 LED Uplighter Introduction
Uplighters have been used to enhance the look of a room and marquees for many years now. The use of vibrant colours washed on walls, props and ceilings can completely change the look and feel of any space. We use the most advanced LED uplighters with countless colour options to help you tie in your desired colour scheme.

We now offer completely wireless uplighters powered by their own heavy duty battery with up to 12 hours running time. These are a great alternative if you a struggling to find power or wish not to see unsightly cables across the room. These light units can be operated from a smart phone, tablet or a simple controller enabling you to have fully access and control of the lights during your party/function.

LED Uplighters are by far the most cost effective way to enhance the look of a function room. Using strong rich colours which are splashed against bland wall leaving an warm inviting atmosphere.

MOOD LIGHTING – SPECIAL OCCASIONS – CORPORATE EVENTS – WEDDING RECEPTIONS – BIRTHDAY PARTIES – CHARITY EVENTS – ANNIVERSARIES AND CELEBRATIONS.